The mission of the Society of Ultrasound in Medical Education (SUSME) is to promote the use of ultrasound in medical education through development of educational experiences, research on outcomes, and distribution of results. The purpose of the SUSME web site is to:
provide a forum for the exchange of information about the use of ultrasound in medical education
facilitate communication and collaboration between educators who are using ultrasound in medical education
develop a database of information about the use of ultrasound in medical school curricula, and
provide links to resources, events, and associations related to ultrasound in medicine
---
Save-the-Date: Point-of-Care & General Medicine Ultrasound Course
July 23-24, 2016, Portland, OR
Click the following to read more: http://www.aium.org/cme/events/pg2016_7/pg2016_7.aspx
---
Registration Now Open: Fourth World Congress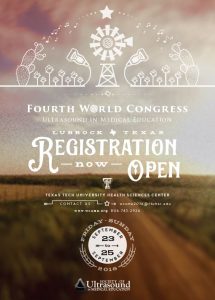 September 23rd – 25th, 2016
Thursday September 22nd (Check-in and evening reception)
Friday September 23rd (Full Conference day)
Saturday September 24th (Full Conference day)
Sunday September 25th (1/2 day – morning)
Join top ultrasound practitioners and educators for this year's fourth Congress on Ultrasound in Medical Education in September 2016 in Lubbock, Texas.
This year's conference will provide the opportunity for medical practitioners, educators, trainees and students to learn from national and international industry professionals and leading physicians from all areas of ultrasound.
---